OSTOMY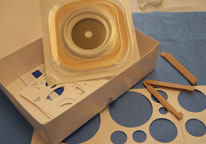 Our comprehensive ostomy product offering represents the leading manufacturers of ostomy supplies, including Coloplast, ConvaTec and Hollister. Our relationships with these manufacturers allow us to provide patients with the same ostomy supplies and accessories that they were trained to use for their ostomy care program.
.
More Quality Products

One- and two-piece pouching systems (drainable, closed and urostomy pouches)

Pediatric pouching systems

Skin barriers and barrier rings

Pastes and strips

Stoma powders

Deodorants and lubricants

Skin protectant wipes

Ostomy belts
:
More Clinical Support
In keeping with a commitment to patient care, healthcare providers have access to our wound, ostomy and continence (WOC) nurses.